.


Today, marks the end of our 2 month long slave fest; and finally a day we can all say, 'damn it, it's a friggin wrap'!
If you even give a two cents about what we two crazee wannabe-try-hard girls are up to, hold your horses and freeze right there dollies! Pump the stereos up, get comfortable and pin your eyes on this collaborative work by ProjectMuffStit and Stesha Ho.
What's the formula, u ask?

Step 1

: Downing our regular jugs of Ice Jasmine Green Tea with extra honey pearls for that inspiration punch. A little habit we got hooked on since a couple months back. Teehee.

Step 2

: Paint the images of 6 dress designs in our micro brains and imagine it come to life, of course while pigging out on some Tuna Carpaccio!

Step 3

: Enslaved Stesha Ho to sketch out our brainwork on paper.



Step 4

: Made trip after trips of fabric hunting. So crazy its not funny.

Step 5

: Fairy got to work and zombied herself on that monster machine, eventually making our designs come to life. woots!
2 months after and our brainwork has come to life:
All one-off designs by Muff+Stit
Tailor-made by Stesha Ho
Photographed by
Zillieman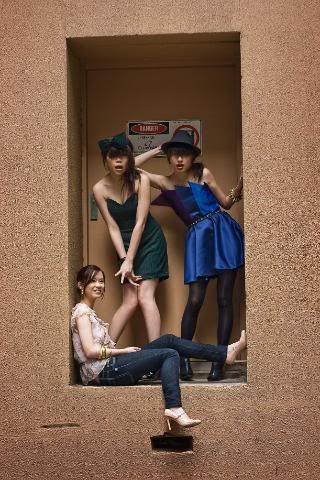 'A collection based on the tale of two lost girls and their trusty lil' fairy'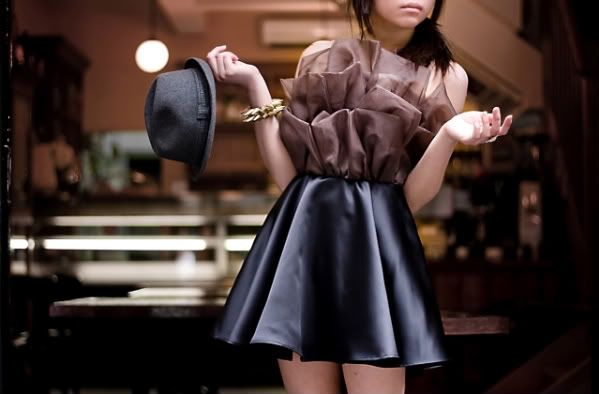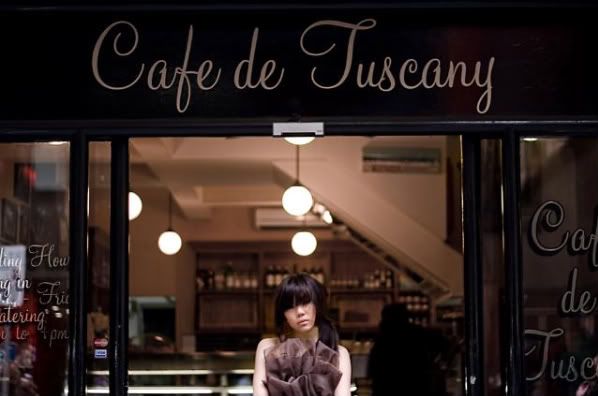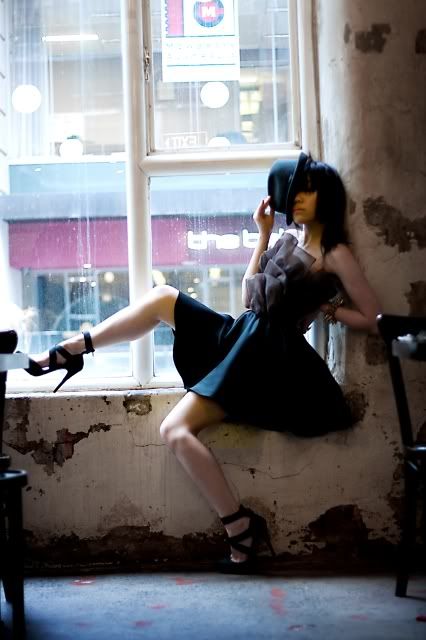 Mocha cocktail dress
AUD$250

SOLD



We went a bit crazy with the 'Poof' here but I guess it didn't turn out half bad. Teehee. Mocha silk organza hand-sewn onto champagne coloured tube and finished off with a black circle skirt. This will fit a size 8-10.
Measurements:
Bust- 86cm
Waist- 70cm
Length (waist down) - 38cm
Length (waist up) - 31cm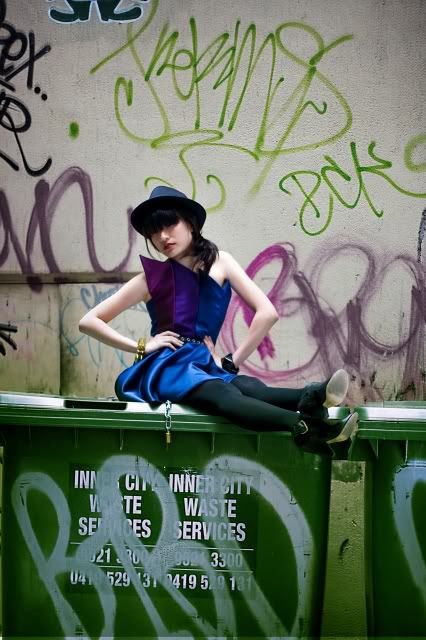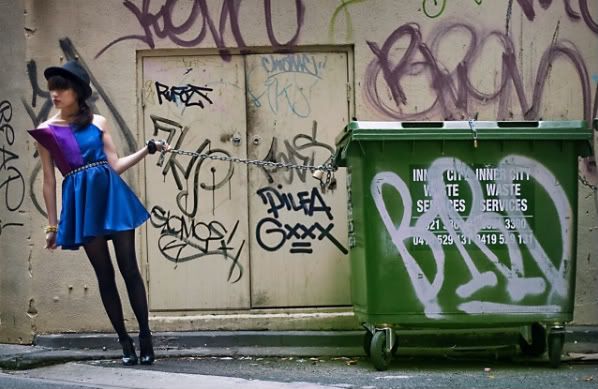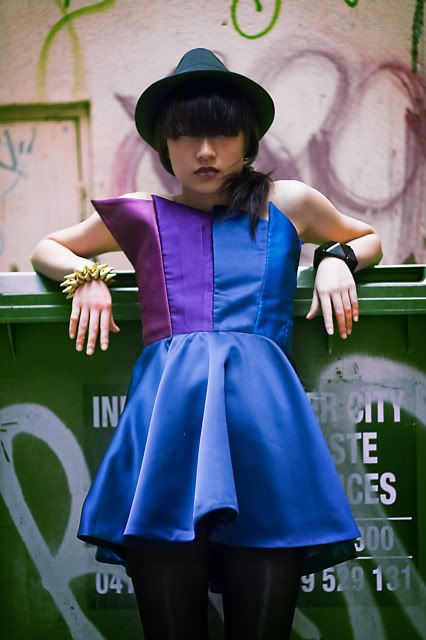 Asymmetrical Gradient Panel cocktail dress


AUD$250
SOLD
This is one dress that broke Stesh into cold sweat while she camped the night hand-sewing each panel to achieve that asymmetrical effect on the dress. Made from Poly Satin fabric in Midnight Blue, Royal Blue, Crayon Blue, Purple & Maroon. Self-lined with a full circle skirt. For those who'd like some edge (pun intended). Best fitted on a size 8-10
* Belt not included


Measurements:
Bust- 86cm
Waist- 70cm
Length (Waist down)-37cm
Shortest Panel length-17cm
Longest Panel length- 33cm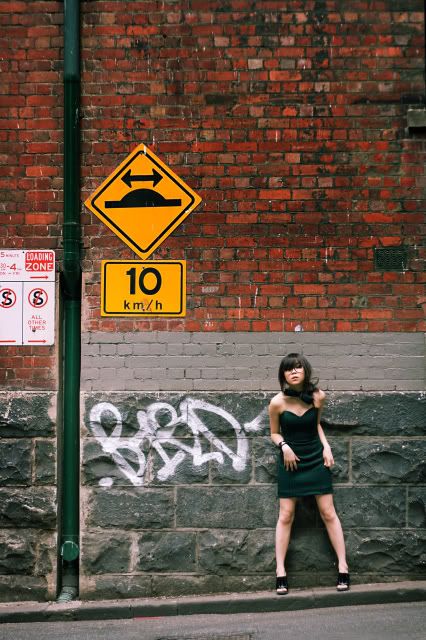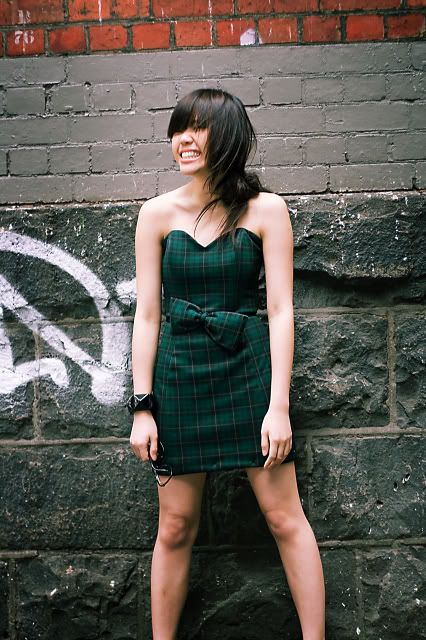 Stretch Tartan Bustier Cocktail Dress
AUD$180

This green lil number comes with a handmade bowtie that can be tied to your liking- head, waist, neck and wrist. Play around for different effects. Best for a size 10.
Measurements:
Bust-90cm
Waist-68cm
Hips- 42.5cm
Length: 65.5cm
Bow tie length:21cm
Silk Drop Crotch Jumpsuit
AUD$250

SOLD
Made from 100% silk in chalk gray, so if you're thinking this is one hellavu comfy piece, you're pretty damn right. Comes attached with 2 black jersey knotted ropes for you to play fairy tale story with all night long. Good for a size 8-10.
Measurements:
Bust-86cm
Waist-33cm
Length (waist down) - 97cm
Length (waist up) - 23.5cm
Dark Gray jersey dress with knotted strings
AUD$180

SOLD
This dress went through multiple design change but we finally agreed on a slouch open sleeved jersey dress with a low back. Stesh came up with the brilliant idea of knotting the jersey strips to create some complexity and drama to this simple knit piece. Size 8-10
Measurements:
Length (from top to U-shape back) - 32cm
Length (from top to U-shape front)- 23cm
Full Length – 76cm


.


PS: All pieces were fitted to model for photoshoot purposes, for actual size, refer to measurements!

This is a Project in conjunction with

Christmas

and we're all for the spirit of exchanging! So to all buyers of the ProjectMuffStit X Stesha Ho collection, we're giving you peeps each a

AUD$25

voucher from the MuffStitShop.


.


Hit us a mail at

projectmuffstit@gmail.com

if you're interested to bag home one of these one-off, original designs! Happy Shopping and Merry Xmas!

xoxo
Muff & Stit